By YourLand Developments and APD Projects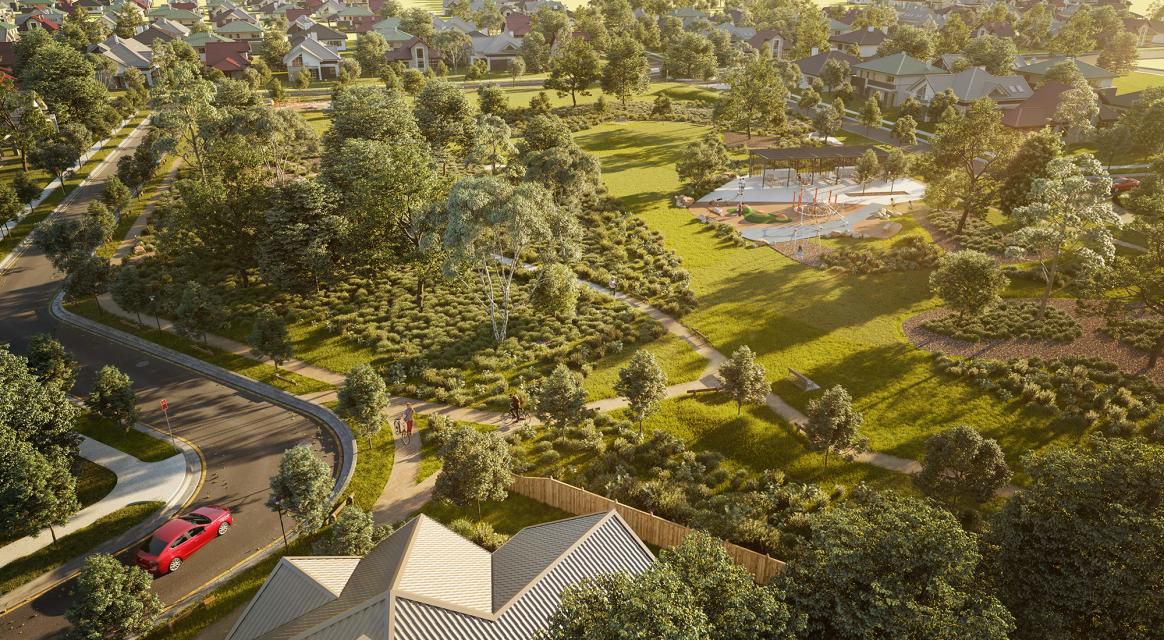 With its open spaces and closeness to natural features, the Seventh Bend community in Melbourne's northwestern suburbs is a haven for adventurers and those seeking a healthy lifestyle.
The new masterplanned community is tantalisingly close to a number of features such as Toolern Creek and the new Toolern Regional Park, a Parks Victoria initiative that runs along the length of the project's eastern boundary. It offers a rare blend of green living with the convenience of established infrastructure and community services in nearby Melton. The community is a partnership between family- owned Melbourne developer YourLand Developments and Melbourne developer APD Projects and is being sold through Latitude Real Estate.
"For young families and investors trying to get a foot in the Melbourne property market, Seventh Bend offers the perfect lifestyle with generous blocks of land, quality design and exceptional value for money," YourLand Developments director Mark Erskine said.
"It's close to the city and only minutes from the thriving township of Melton. It's also ideal for activities like walking, cycling, fishing, kayaking and birdwatching."
Mr Erskine said when complete, Seventh Bend would feature a mix of active and passive open spaces, including a conservation area, walking paths, two soccer pitches, a pavilion, open grass play zones, two playgrounds and barbecue facilities.
Since YourLand began releasing lots in July 2017, results have been exceptional, with some stages selling out within a day. "We have a philosophy of selling lots when construction has started or is about to start, which allows buyers to avoid the typically lengthy approval process," Mr Erskine said. "Buyers appreciate not having to wait. This has been our approach with our Bendigo projects and it's now proving very successful with our Melbourne estates."
Currently selling stage 5A (featuring the release of 24 lots), Seventh Bend has an affordability that is attracting punters from across Melbourne and even interstate, from as far afield as WA and NT. Mr Erskine said the community was expected to be completed during the next five years, with 820 allotments released over 22 stages.
While earlier stages are designed for younger families, smaller lot sizes and housing options such as townhouses will be offered down the track so "multiple generations can live in one thriving community".
"Melton is one of the fastest-growing municipalities in Melbourne," Mr Erskine said. "There's a lot of state government investment going into this area, with a $518 million duplicate rail line to be built between Deer Park and Melton. It's transforming very quickly, with new estates of quality springing up. Eventually, Melton will be like an extension of Caroline Springs."
More than $10 million is being poured into the Melton CBD and on upgrading spaces such as the Melton library. Investment will also go into facilities such as the Western BACE (Business Accelerator and Centre of Excellence), the Bridge Sports Precinct and the Bridge Road Regional Playspace. Seventh Bend is 35km west of the Melbourne CBD (about a 40-minute drive via the Western Freeway). It's close to a number of schools, transport lines, medical facilities and Woodgrove shopping centre.
Mr Erskine said Seventh Bend was partnering with Fleming Nurseries to offer buyers a free front- landscaping package, with four designs to choose from.
"All gardens have been designed with the local environment in mind and are waterwise," he said.
WORDS: LIN FONG
Herald Sun 3/2/2018